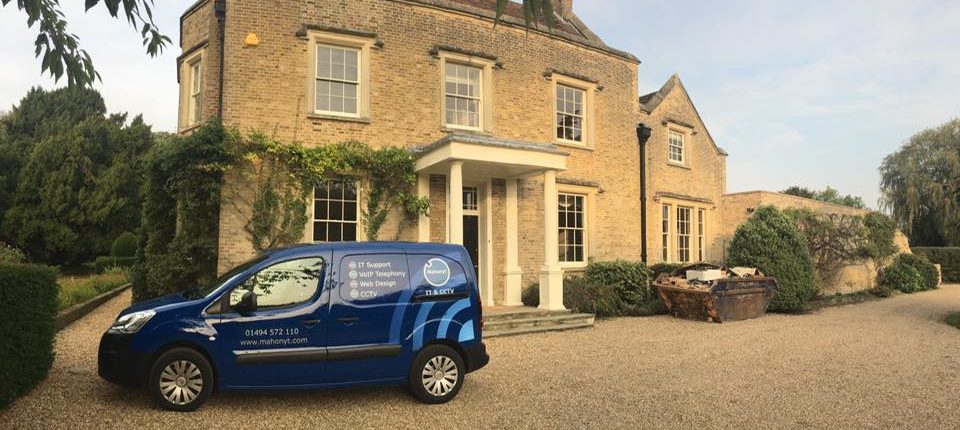 CCTV System – Residence in Herefordshire
Newly acquired house where our customer was moving in to had no CCTV surveillance system. Once the family have moved in, they felt they could benefit from being able to see who enters the premises whilst they are at home, but also when they are away.
They wanted the ability to quickly check on who is at home, who enters the drive way as well as keep an eye on their car park and entrance doors. They requested to have the facility on their tablets, laptops and smart phones.
When designing this CCTV system, we had to take internal and remote monitoring into the account. However, all modern CCTV systems are able to deliver remote monitoring, precise and careful routing and internet access has to be considered.
It wasn't customers idea to have detailed surveillance of every corner but just to have an general overview what is going on around the place. We have therefore designed 7 cameras in critical places such as entrances, car park and foot paths. We have then added one more PTZ (Pan, Tilt and Zoom) camera overlooking the entrance gate and surrounding area. PTZ is equipped with powerful zoom so that the family can have a look at who is at the gate 100m away, as well as overlook different angles of the car park and rear door entrance.
Our engineers, at first, spent couple of days wiring Cat5 cabling around the place. Because the house was in advanced refurbishment state, we were able to hide the data cabling under the floor, hence there is zero exposure of the cables anywhere in the house. At the same time, we have deployed Cat6 data cabling for the family to use powerful WiFi system and have the capability to plug their home cinemas, smart TVs and stereo into the network.
Once the cabling was finished, we have configured the HikVision CCTV NVR with large capacity storage and plugged the CCTV cameras into the system. All the cables were tested prior to configuration so we know we are dealing with fully working network system.
Once we have finished, we were pleased to say that we have achieved more than anticipated.
Our customer can now keep an eye on their home from anywhere in the world. All crucial parts of the home are now in the palm of their hands any time, any place. With versatile and powerful PTZ camera, they can swing around and see different angles and parts of the house.
On top of that, there is wireless signal throughout the house and multiple data points for all of their home cinema equipment or computers.